THE ORIGINS OF GOYARD:
MAISON MARTIN
Pierre-François Martin created Maison Martin in 1792, specializing in box-making, trunk-making, and packing at a time when the golden age of the great trunk-makers of the late 19th century was yet to come. Martin's trade had more to do with the delicate art of garment folding and packing than with that of container-making, as was evident by the sign on the façade of his shop, which claimed that
"Maison Martin sells an assortment of boxes and cases; we provide quality packing services for fragile furniture and objects, as well as hats, gowns and flowers; we use oiled canvas, plain canvas and straw for packing; manufacturer of horse carriage trunks and coat racks, we also supply oilcloth and waterproof canvas, all at a fair price."
The house of Martin quickly became a favorite with the French aristocracy and was eventually granted the prestigious title of official purveyor to HRH Marie-Caroline of Bourbon-Siciles, Duchess of Berry.
1792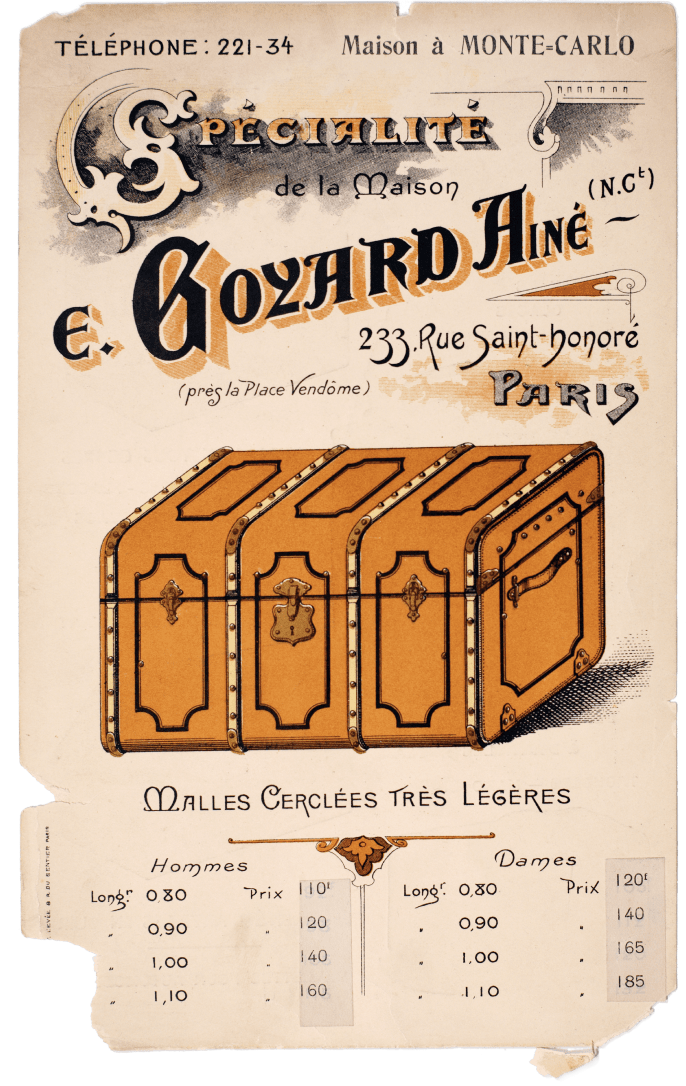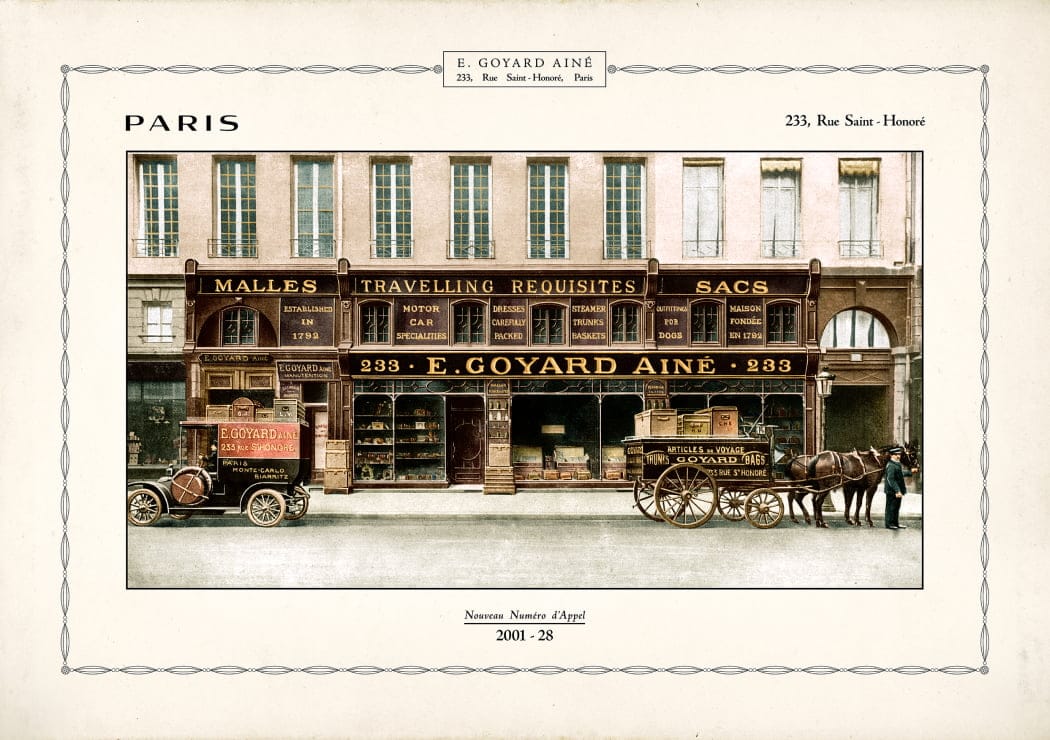 1834 :CHANGE OF ADDRESS
In 1834, the House of Martin moved its store from 4, rue Neuve des Capucines to 347, rue Saint-Honoré. Though the postal address changed to 233, rue Saint-Honoré in 1856 on account of a new street numbering system, its location has remained the same ever since.
1841 :MAISON MOREL
A childless widower, Pierre-François Martin was the guardian of a young female ward, Pauline Moutat. He arranged her marriage to one of his employees, Louis-Henri Morel, and gave his business as her dowry. Morel followed in Martin's footsteps and introduced himself as the "Successor to the former Maison Martin, located on rue Neuve-des-Capucines, near Place Vendôme".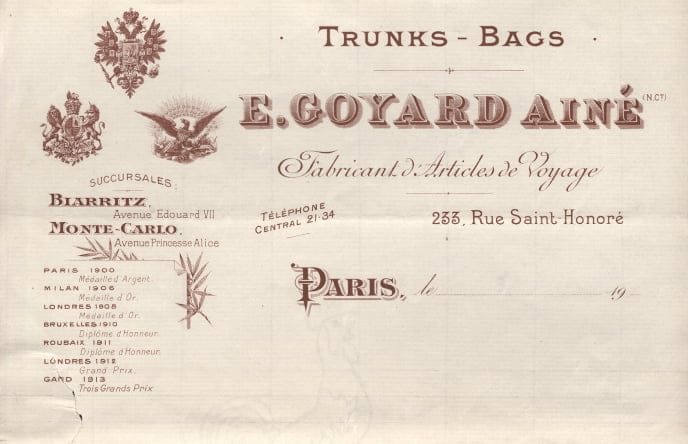 FRANÇOIS GOYARD: THE FOUNDER
In 1845, Morel hired François Goyard (1828-1890) as an apprentice. The gifted 17-year old boy received exceptional training under the guidance of both Martin and Morel.
1845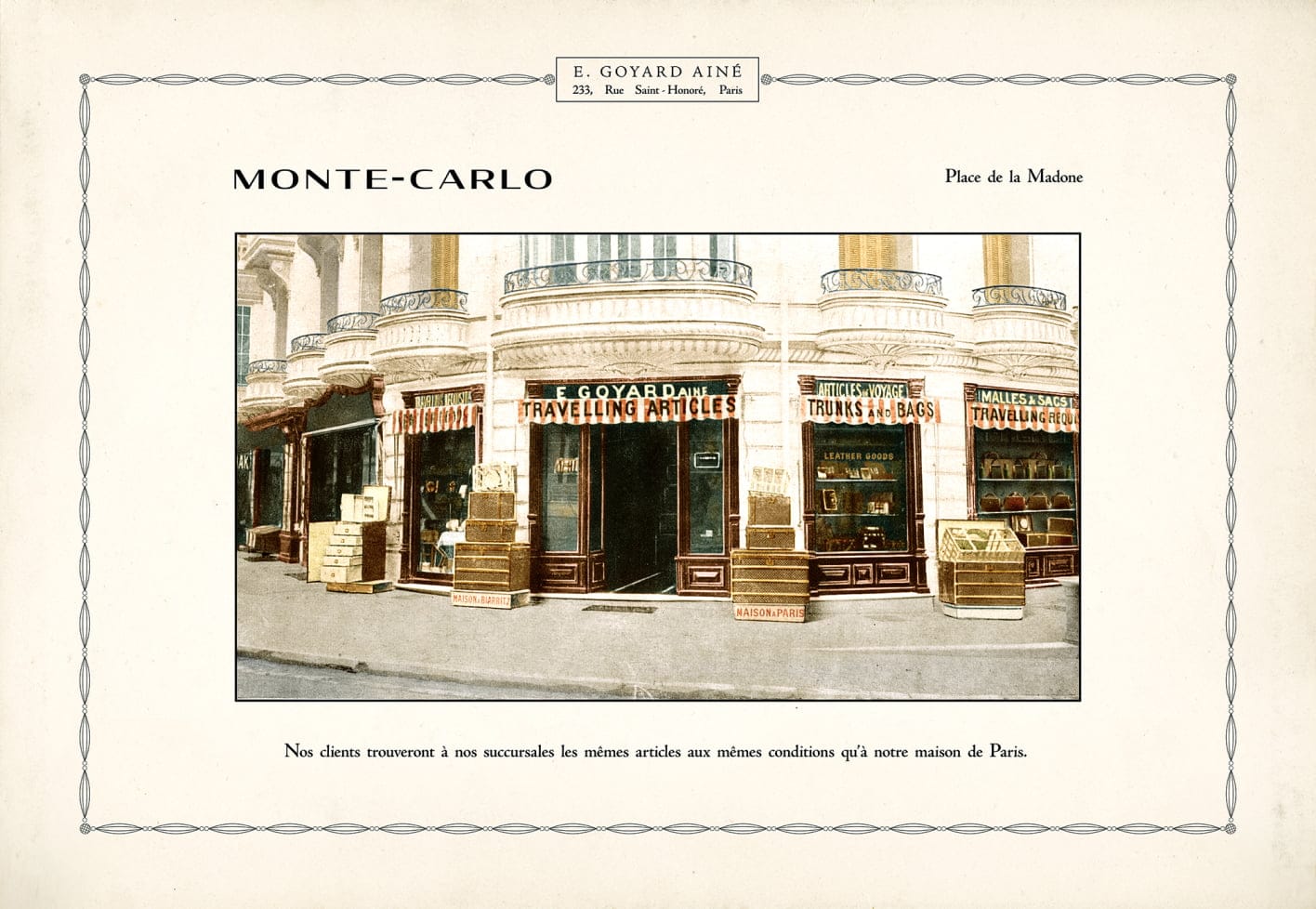 1853 : MAISON GOYARD
When Louis-Henri Morel died suddenly in 1852, François Goyard took over and changed the name of the business to Maison Goyard. He remained for 32 years at the helm of a house that he took to a whole new level. He later handed over the reins to his son Edmond in 1885.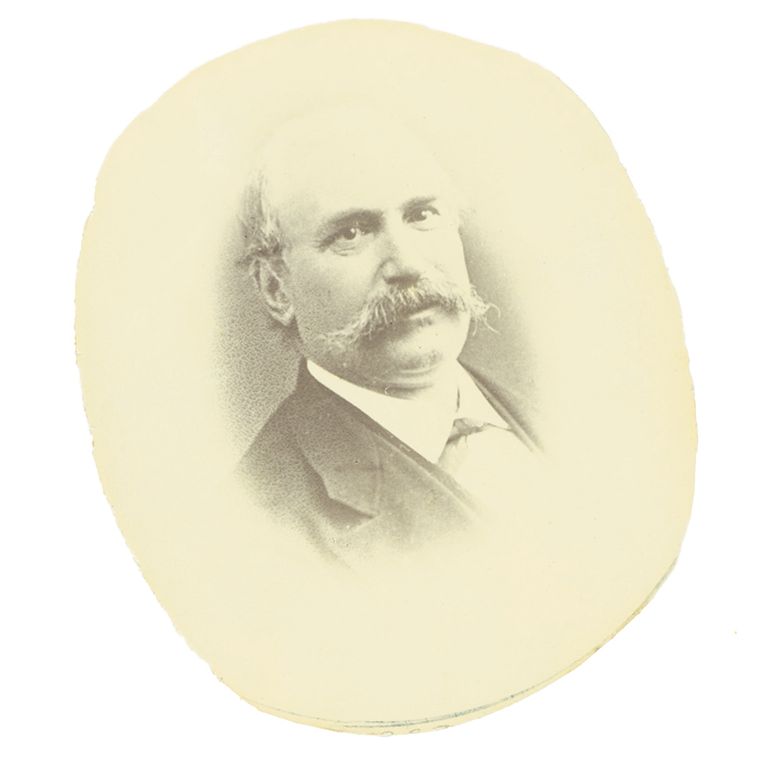 1885 :EDMOND GOYARD THE INNOVATOR
On April 1, 1885, Edmond Goyard officially became the head of Goyard. The name changed to E. Goyard Aîné (the elder). Continuing his father's work, Edmond Goyard turned the comptoir on rue Saint-Honoré into an elite institution with an international clientele. He created the first Goyard advertisements, participated in various World Expositions and opened three branch stores in Monte-Carlo, Biarritz, Bordeaux, as well as trade offices in New York and London, the latter located on Mount Street, on the same street as today's Goyard Mayfair boutique. He also developed a range of products for automobiles in collaboration with prestigious coachbuilder Rheims & Auscher.
1890 : PET CHIC
Edmond Goyard started the "Chic du Chien" ("Pet Chic") range, which was met with great success. "The chicest dogs wear Goyard", proclaimed the innovative and playful advertising campaigns imagined for Goyard by the greatest illustrators, such as Pierre Falize, Mich and Benjamin Rabier, of the the Belle-Époque in Paris. Four-legged dandies dressed up in serge or velvet overcoats, sported driving glasses, boots, ruffle-neck collars, and fancy leashes. Specially designed wardrobe trunks were also available. Other pets were not forgotten: cats had their own grooming kits and travel bags, and even monkeys had their dedicated line of accessories.
Keeping this tradition alive, Goyard opened a boutique devoted to "Le Chic du Chien" in 2008, at 352 rue Saint-Honoré, across the street from its historic flagship store.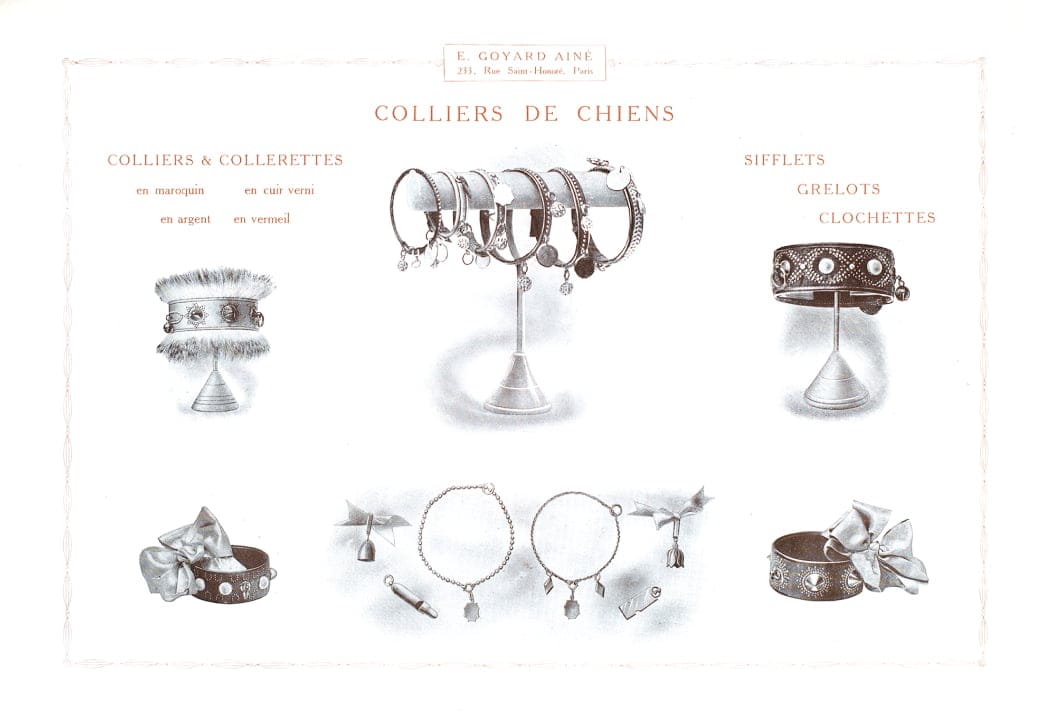 1891 :FROM THE WHITE HOUSE TO THE WINTER PALACE: THE SUPPLIER TO THE RICH AND FAMOUS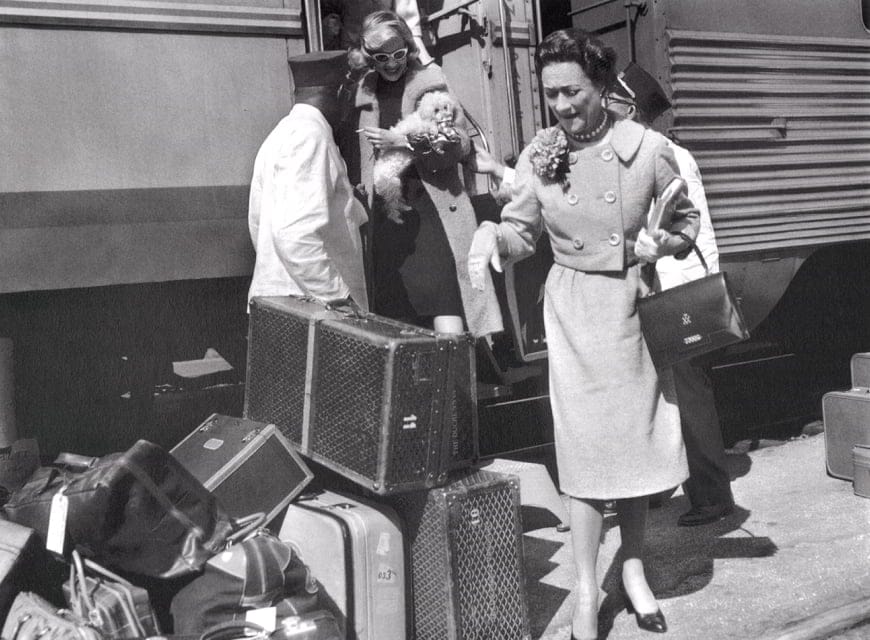 Thanks to its creativity and know-how, Goyard was granted the privilege of being the official purveyor to kings and presidents, as is evident on a Goyard letterhead dated 24th June 1891 featuring the coats of arms of the British Royal Family, the Russian Imperial family, and the Great Seal of the United States of America.


Throughout the 20th century, Goyard remained a favorite with celebrities, and many illustrious artists, captains of industry, heads of state or royals have sported its creations. One may imagine the extraordinary -and not so unlikely- encounters that could have taken place at 233, rue Saint-Honoré: Pablo Picasso and Sacha Guitry, the Maharadjah of Kapurthala and Jacques Cartier, the Agnellis and the Rockefellers, the Romanovs and the Grimaldis, Estée Lauder and Barbara Hutton, Mrs. Pompidou and Prince Ali Khan, Coco Chanel and Jeanne Lanvin, Romy Schneider and Sarah Bernhardt, Edith Piaf and Arthur Rubinstein, Cristobal Balenciaga and Cole Porter, or Jeanne Moreau and Lauren Bacall…
1892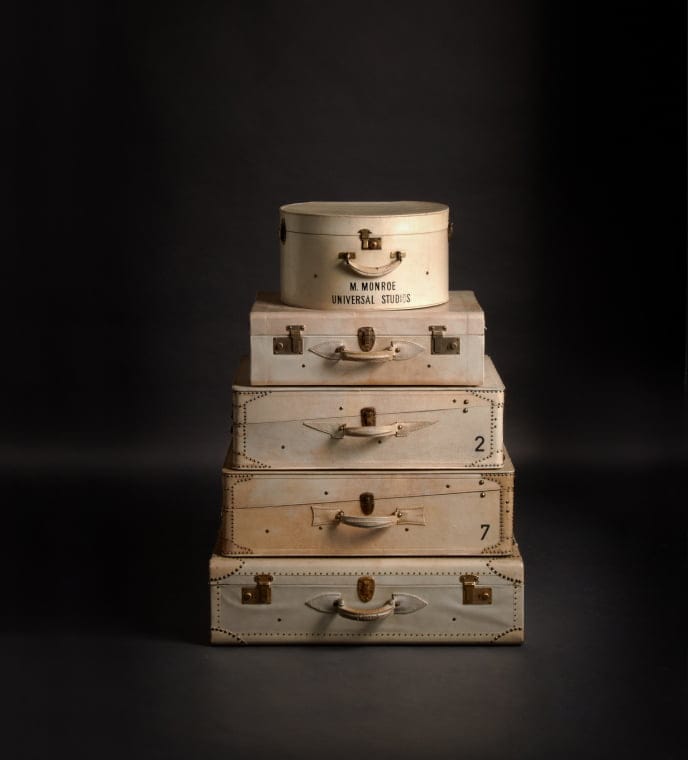 1892 :THE BIRTH OF AN EMBLEMATIC CANVAS
When he created the Goyardine canvas in 1892, Edmond Goyard was very much inspired by his family history. The dotted pattern clearly references the log drives conducted by his ancestors that forms a triple chevron juxtaposed in the shape of a Y -the central letter in the Goyard family name.
Just like a painter would sign a painting, Edmond Goyard signed his canvas. His name written in white is the only element truly standing out, whilst the address of the Paris store is spelled in two different shades of brown, and "Paris" is repeated twice, and arranged in a centrally symmetrical stack. Edmond Goyard was the very first Parisian trunk maker to integrate his name into his canvas.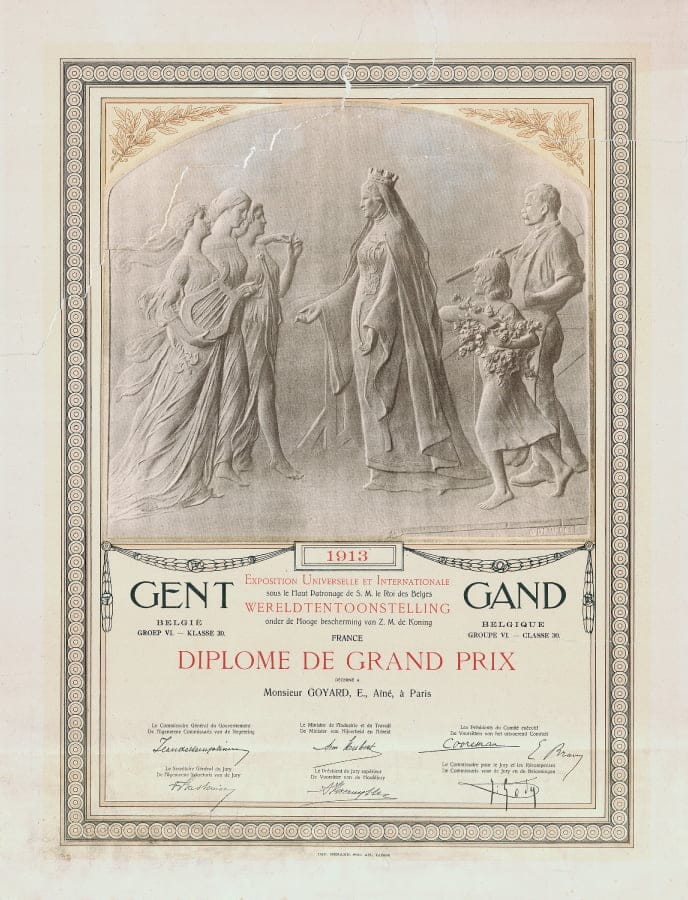 1900 : UNIVERSAL EXPOSITION
A fearless innovator, Edmond Goyard dared to participate in the World Exposition of Paris in 1900. At a time when it was considered very bold for a reputable house. Goyard won a bronze medal, the first of a series of prestigious accolades: gold medal at the World Exposition of Milan (1906), gold medal at the Franco-British Exposition of London (1908), honorary degree at the World Exposition of Brussels (1910), grand-prix at the Anglo-Latin Exposition of London (1912), triple grand-prix at the Exposition of Ghent (1913). Goyard also participated, on a non-competitive basis, in the Panama Pacific International Exposition of San Francisco (1915), the Exposition of Strasbourg (1919) and the International Exposition of Modern Industrial and Decorative Arts of Paris (1925, honorary degree).
1936 :A KEY PLAYER OF THE FRENCH LUXURY INDUSTRY
Robert Goyard, along with hotel mogul Charles Ritz and fine-jeweler Louis Boucheron, set up the Comité Vendôme. He personally took care of the legal formalities for its constitution, and even located its offices at Goyard's headquarters at 233, rue Saint-Honoré. The Comité Vendôme proved instrumental in the shaping of a structured luxury sector in France.
1936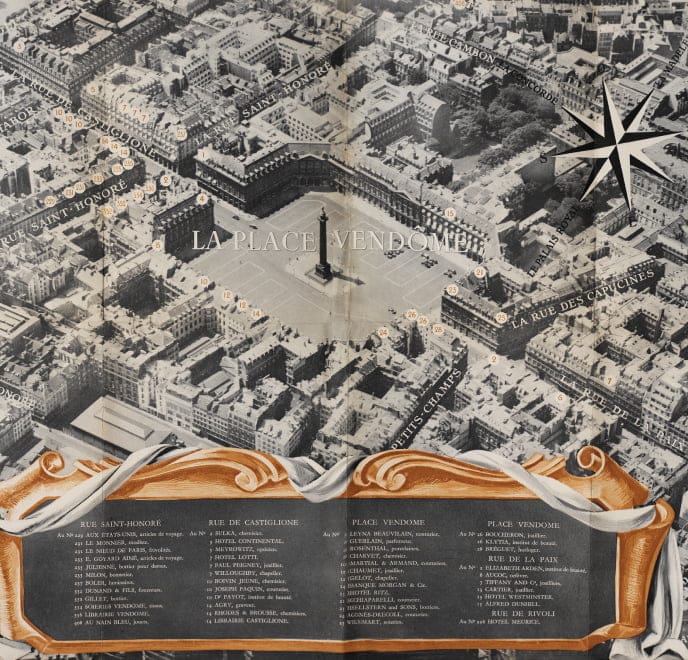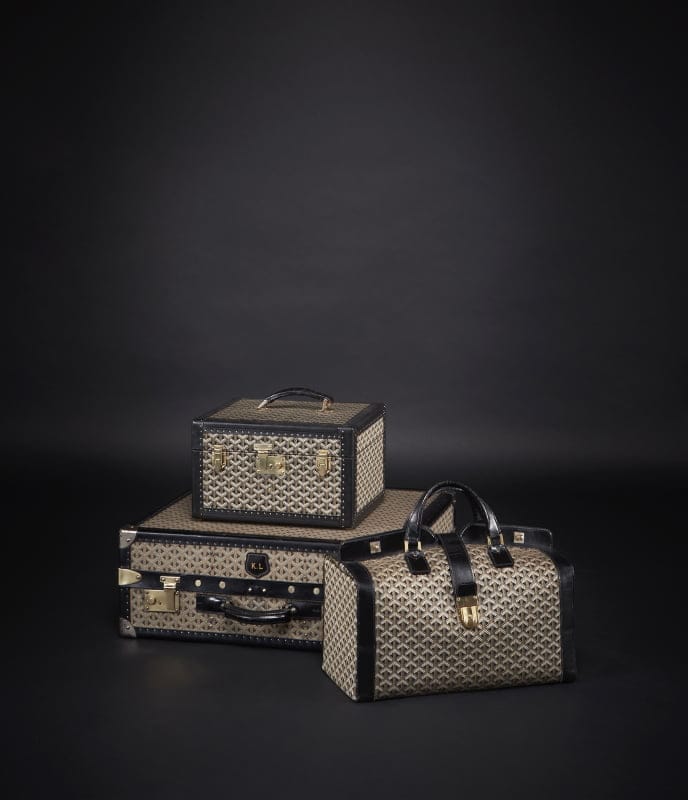 1939 & 1972 :A SPECIAL RELATIONSHIP WITH CUSTOMERS
The names of all Goyard customers throughout the 19th and 20th centuries are to be found in Goyard's filing cabinet, which keeps track of each and every order placed through a system of nominal index cards. They symbolize Goyard's unique ability to build long-term relationships with its customers, whether they are famous or anonymous.
It is not uncommon for Goyard customers to have accounts that remain active for decades: the Duke and Duchess of Windsor opened theirs in 1939, and it was closed only after the passing of the Duchess in 1986, while Karl Lagerfeld, a great friend of the Maison, opened his in 1972. It was sadly closed in 2019 upon his demise.
1974 : THE BIRTH OF A PASSION
Jean-Michel Signoles came across a vintage Goyard trunk for the very first time in 1974, in an antique shop in Paris, and immediately bought it. His initial curiosity for the Maison soon turned into a passion. He became an avid collector of remarkable pieces through auctions and chance encounters with other Goyard lovers.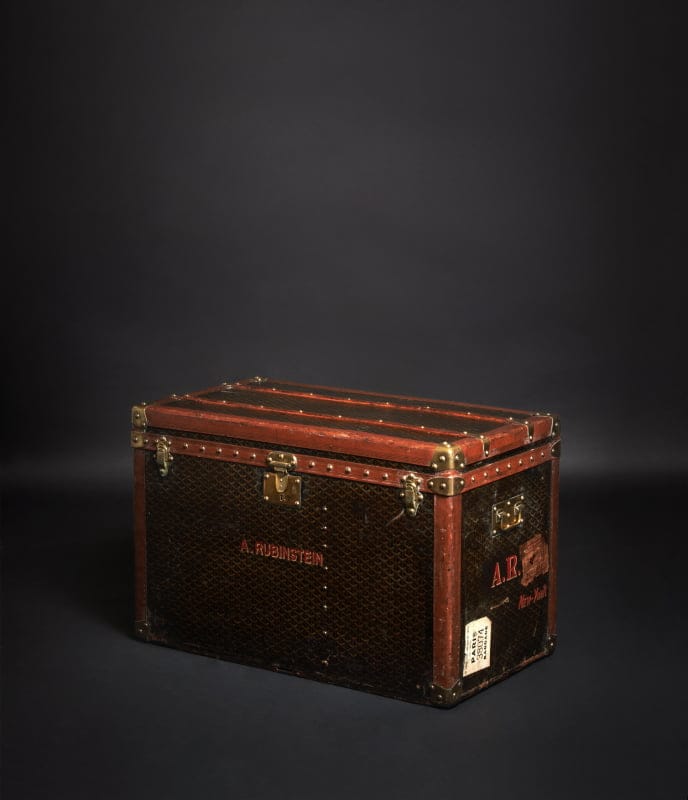 1998 : SUCCESSION
Upon his purchase of the Maison, Jean-Michel Signoles gradually revived Goyard's heritage and skills. He opened new workshops in France, and boutiques across Europe, the Americas and Asia. Within a decade, completely disregarding marketing tactics or mass-production, he restored Goyard to its original glory, and firmly re-established it as the beacon of timeless elegance, craftsmanship and exclusivity it once had been.