The Caravelle is an ideal additional suitcase, the right size for carry-on luggage. The design is clever, light and flexible as the suitcase is also convertible: it folds and unfolds easily.
Contact us
2 available colours
Black

Black & Tan
Named after the famous French airliner, the Caravelle suitcase is a nod to the world of travel so dear to Maison Goyard. It represents our ambition to provide light, fold-away luggage that is not cumbersome, perfect for all air travel.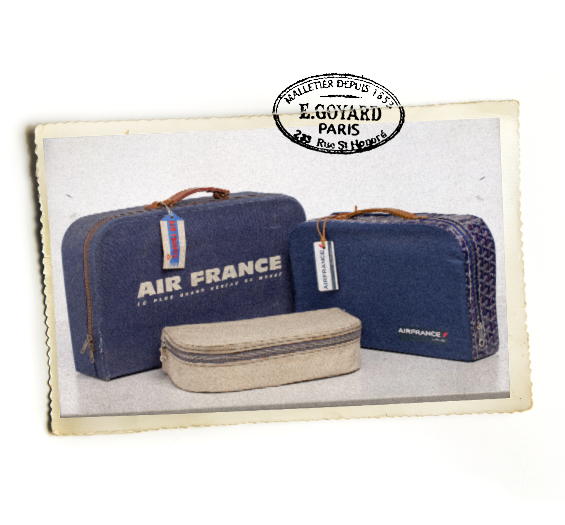 All about this model
Detailed features

40 cm x 16 cm x 50 cm , 1.6 kg

Goyardine Canvas & Chevroches Calfskin

Care and use advice

We recommend to follow certain precautions to ensure proper use and care of this product.
Detailed features
40 cm x 16 cm x 50 cm , 1.6 kg

Goyardine Canvas & Chevroches Calfskin

Yellow Cotton Lining

Palladium

Lockable double-slider zipper

sliding leather gendarme handle

folding inside panels and snap fasteners for folding the Caravelle suitcase completely away

Bottom studs, Padlock and keys

Height of handle : 6 cm

Made in France

CARAV2050TY01CL01P
Care and use advice
We recommend to follow certain precautions to ensure proper use and care of this product.

Never fold the suitcase in a configuration that it was not designed for.
Do not graze or rub the item against rough surfaces.
Avoid contact with water, greasy or oily products, make-up and perfumes.
If the item comes into contact with water, dab it dry with a soft, absorbent cloth that does not pill.
Protect the item from damp, extended exposure to artificial, natural light or intense heat